Do you want an effective house clearance Bournemouth service? Revive Services is the company for you to choose. We offer great prices and an even better service that will ensure that your house is completely empty. No job or property is too big or small for our expert movers.
What is a house clearance in Bournemouth?
Put simply, a house clearance Bournemouth is when a property is cleared of all household items. There are many reasons why customers need our company to clear their properties. It could be due to a need for more space, redecorating to moving out of an old home. Get your free quotation today on 07868 121096 from the team at Revive Services.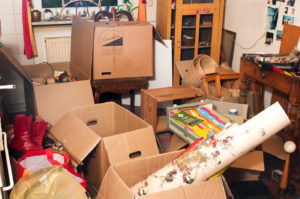 Whether you have sold your property or need to redecorate your home, finding the time and energy to clear a whole house is not as easy as it sounds. Imagine having to use your hard-earned holiday to book the time off work.  Instead of using your time to unwind, you will have to do hard labour that can be avoided with a quick call to our Bournemouth house clearance team.
You will also need a good pair of hands to get those old wardrobes down the stairs. It doesn't end here as you have to book a van big enough to take your whole load. Then comes finding the right place to dispose of the waste that you have accumulated which isn't as easy as going to the local dump.
At Revive Services, we are experts in delivering an excellent house clearance in Bournemouth service for properties of all sizes. Finding the time and energy to clear a whole house is harder than it looks, but don't worry as we are on standby. Our team work around the clock to ensure that your needs are fulfilled. If you need us to work on the weekend, a bank holiday or even an early start – we endeavour to keep our customers happy.
Our Bournemouth house clearance services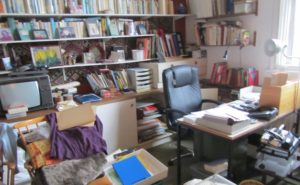 There is no house clearance Bournemouth service to fit every customer and property. We supply a variety of clearances such as:
Full house clearance or part clearance
Need the whole house cleared? This is not a problem for our experienced Bournemouth house clearance team. We clear properties of all sizes from small bungalows to large five bedroom houses and more. In addition, if you only want a partial clearance such as a few rooms (the attic is a popular request) this is not an issue at all.
Auction sales clearance
We specialise in auction sales clearance for homes in the Bournemouth and wider areas. Your property will be cleared of all contents as per your instructions. Our auction team experts will then decide which items will achieve the best possible price at the auction house.
Hoarder clearance
Whether it is a family member or a tenant, we understand how hoarding can take over lives and homes. We provide a specialised but sensitive hoarder clearance that includes removal and disposal of items. Additionally, if you are a hoarder and need help taking control of your life, we will give you the support to help you overcome the obstacles.
Biohazard clearance and clean
Do you suspect there are biohazards in your property? Don't risk endangering your life or the lives of others, get in touch with us now on 07868 121096. Biohazard clearance and cleaning is something that is best left to the experts.
Probate clearance
Our probate clearance is one of the most effective yet caring in the local area for individuals, solicitors to executors of estates.  You can be sure that our house clearance Bournemouth team will work hard during what can be a trying period for all people. We will work closely with you to ensure that the property is freed of all items.
Types of rubbish we remove
At Revive Services, we have the facilities and experience to remove a huge array of rubbish from our house clearance in Bournemouth jobs. An added benefit of using a professional company like ours is that you don't have the added worry of disposal. Not to mention, there will be no need to hire a van or even ruin your car. For your added convenience, we have listed some of the things we take from homes:
Bricks
Fridges
Garden
Household waste
Paint
Timber
TVs and more
If your property has rubbish that hasn't been listed, please give us a ring and we will provide you with more details.
About Revive Services
At Revive Services, we are proud to say that we have a wealth of experience. Why does this matter? You can be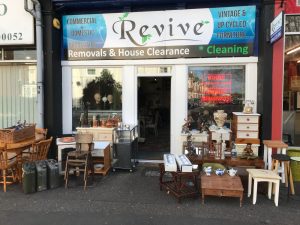 certain that your house clearance Bournemouth request will be completed to the highest standards. All members of staff have been carefully selected and they'll show you and your property the utmost respect.
As expert removers, we have the equipment necessary to clear properties. We use the latest tools and vehicles to get your items to our disposal centres. Choosing Revive Services is an easy solution as we always aim to please. We want every customer to be happy so our goal is 100% satisfaction across all of our services.
Giving back is an important part of our Revive ethos, and we always do our best to help our fellow members of society. There are a huge range of discounts for our customers, click here to find our more information.
Once your property has been cleared, why not use one of our many cleaning service to save you doing the job yourself. We are your one-stop shop for all cleaning matters and believe in going the extra step. Whether you need expert carpet cleaning or an end of tenancy clean, we use the best products and plenty of elbow grease to get the job done.
Get your quote today
Don't miss out on your personalised quote! Call Revive Services now on 07868 121096 for more house clearance Bournemouth details.